How To Make a Cot More Comfortable
As I mentioned earlier, to make your trip a comfortable and productive one, it is important to know how to make your camping cot comfortable, especially if you have a bad back or you're prone to it.
These methods which I'll be sharing now are more or less the best way to experience sound sleep while on your camping trip. It's no news that sleeping well at nights helps you wake up feeling refreshed and energetic, and active enough to start your day!
1. Consider Sleeping Pads
Most times, campers make use of thick foamy sleeping pads to enhance their sleeping experience. These sleeping pads actually come in handy if you want to make your camping cot more comfortable.
Normally, a sleeping pad functions to provide a padding or cushioning for sound sleeping. By placing it on top of your sleeping cot, everything will be much more cozier and comfortable.
In situations where you have a larger cot frame, or one that you're taller or wider than, it's common to end up with your body parts pressing over the steel frames, and this can be very uncomfortable.
In this case, sleeping pads can also make things a lot easier. Once you place it over your cot, you'll have an extra padding and cushioning that will allow you to enjoy your nights!
Always remember to purchase one that fits the dimensions of your cot.
2. Air Mattresses
Another alternative to sleeping bags are air mattresses which can offer even more comfort. An air mattress is an inflatable or blow-up bed made of polyvinyl chloride, which is capable of providing an elevated sleeping experience.
Air mattress can also help to make your cot more comfortable. By placing an air mattress right on up of your cot, you'll be enjoying a next level sleep experience in no time!
Another impressive thing about using an air mattress with your cot is its height level. This additional height that an air mattress possesses will help you enjoy a bed that is almost the same height as your bed back at home.
This way, you'll simply be recreating your at-home bed experience right there in the wild.
3. Get One That Fits Your Body
It's one thing getting a camping cot to make your camp life easier, it's another thing getting one that's right for your body size.
Picking a cot that is perfect for your body is quite important and can play a major role in helping you achieve that comfortable sleep.
If your cot is too small for your body, and you have to fold yourself before you can fit, then it may be hard to have a comfortable and sound sleep.
This is why it is important to pick a cot that will accommodate your entire body size.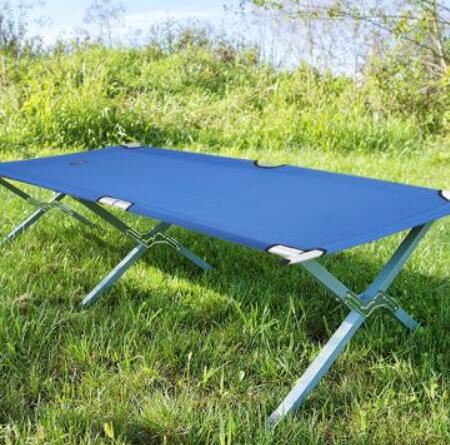 Most times, it is much better to purchase one with extra sleeping space so that you can relax your body and wake up feeling refreshed and ready for a new day on your trip. Check Amazon for more designs
4. Taking A Comfortable Pillow
Regardless of the type of camping you're into, one more factor that can help make your cot more comfortable is a pillow. Just like it is on your bed at home, a pillow can make a huge difference to your sleep, especially when using a camping cot.
Camping pillows are usually almost smaller than the regular pillows we have at home, and the major reason being that they are more portable and easy to pack. Invest in one that will support your head and neck while you sleep.
You may decide to bring one from home or simply use a camp style inflatable pillow— any one that works better for you.
Don't deny yourself the luxury of sleeping comfortably with your pillow while on your camping trip.
5. Invest in Clean, Soft Sheets
A mild sheet of cloth can also make a difference in your sleeping pattern. While you place your camping cot at any position, it is equally important to cover the bed with a soft and clean cloth sheet as this will help you achieve a sound sleep.
One more thing is that, you'll not even feel the harsh floor against your back while you sleep.
Warm blankets can also go a long way in making your cot more comfortable, especially if you're sleeping in a cool weather, invest in one to keep you warm and cozy all through the night.
6. Position Your Camping Cot in an Ideal Place
Another important factor to consider when looking for comfort on a cot is the position or area of placement. Choosing the right position to place your cot is a very critical matter, and must be taken seriously.
First, you need to choose an even or stable surface as this will keep you stable at all times, hence making it comfortable all through the night. You should also find a place with perfect air movement.
Additionally, if you know you'll be sleeping in buggy areas or areas prone to mosquitoes, you should invest in mosquito netting.
Simply hang the net over your cot before you sleep, this will keep bugs at bay and help you achieve a comfortable sleep.
7. Go For a Simple Cot Design
While you may want to purchase a fancy camping cot because it looks attractive and good, just know that it may disturb your sleeping time, especially when it comes to installing and maintaining it.
Complex cot designs are quite difficult to install and will require a some time to set up. You don't want to waste time installing your cot instead of enjoying quality sleep.
To enjoy maximum comfort from your cot, please go for a cot with flexible frame and materials that will last for a long time.
Finally, invest in accessories that will make things a lot easier. These will allow you to keep all the items around your sleep area more organized and keep your cot clear and clean for sleeping.
For storing your personal items, you may want to consider a nightstand that attaches to the side bar and has hanging pockets.
The nightstands come with different compartments, so you can store as many belongings as you need. This will help clear up enough space for you to sleep.