How to Make A Sofa Bed Comfortable for Both Sleeping and Sitting
If you are considering buying a new sofa bed and are unsure if it is the right choice, then this article is the right one. We'll explore how comfortable a sofa bed is and what can be done to improve it. As dual-purpose furniture, the answer can vary greatly between its different uses. Let furniture supplier COUTURE explore each one in turn.

Is a sofa bed comfortable?
The surface of a sofa bed is flat, just like a mattress on a bed, so the difference between the comfort of a bed and a sofa bed is minimal and depends more on the mattress than the sofa bed itself.
As far as the sofa bed itself is concerned, to ensure a comfortable sleep, the following points need to be considered.
1. Size
Make sure it is at least a double size (39 inches x 75 inches) frame. If it is a narrow twin, the average person will find it too narrow to sleep comfortably.
2. Load-bearing capacity
The higher the weight-bearing capacity, the less likely it is to shake or feel fragile. If it feels like it will fall apart every time you move, it will make any sleeper feel very uncomfortable. On a double sofa bed, try a maximum weight of at least 350 pounds.
3. Metal vs. wood
Wood can sometimes creak, but it's usually stronger than metal. If you really want your sofa bed to look and feel more like a bed, a wood frame is a good choice. However, these are usually a bit more expensive.
4. Upholstery
You can go a step further and get a sofa bed with upholstery that is more like a luxury bed, with plush comfortable arms that act like soft headboards and footrests.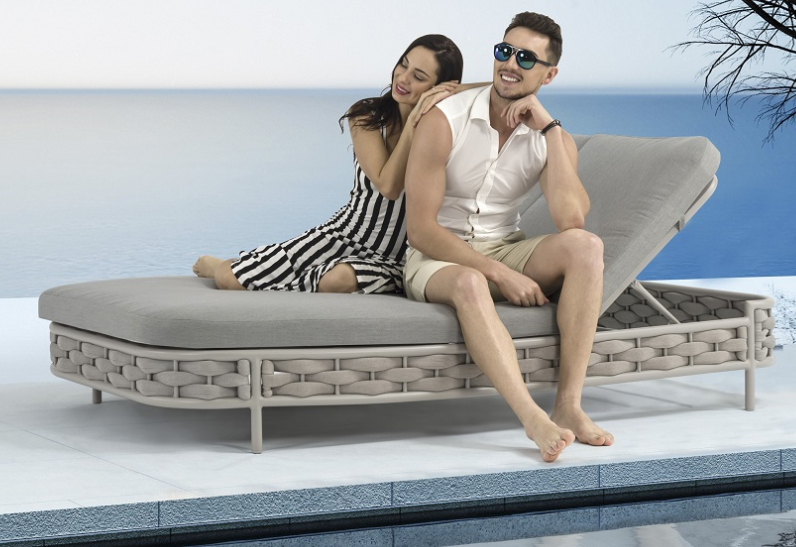 How to make it more comfortable
In order to make your sofa bed more comfortable, you need to consider the following aspects ......
1. Mattress
As mentioned earlier, a good sit-down mattress will make a big difference in comfort. If it bottoms out or starts to sink in around the hip area, you will find it uncomfortable no matter what you are doing.
2. Cushion
You need enough cushion to create a comfortable backrest and shorten the length of the seat to make your legs fit more snugly. Then you will need more cushioning to help pad the armrests and keep your arms resting comfortably on them.
3. Side tables
Part of what makes a sofa bed comfortable actually lies in its surroundings. If you place the side table on either side of the sofa bed, you will have an easier time placing a drink, TV remote or cell phone, which will have a major impact on making it a comfortable living room sofa.
4. Footstool
When sitting on the sofa bed, lift your feet to reduce the pressure on your lower back. The ergonomics of elevating your legs will have a huge impact on comfort.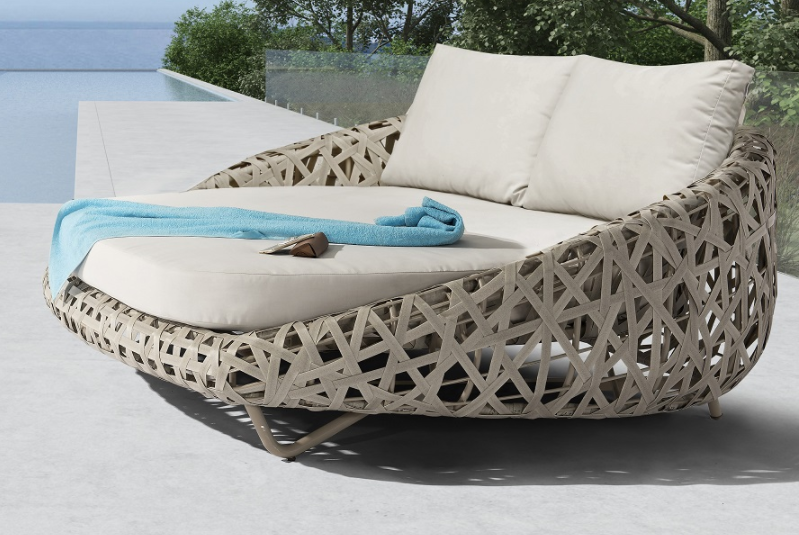 170504 CURL ALUM WICKER BED WITH CANOPY
The most comfortable size?
For sleeping, it is a twin or larger, but for sitting, a narrow twin (with a shorter seating surface) is also very comfortable. Too big means you're actually "hanging out" rather than sitting, because your feet no longer touch the floor. This is fine for patios, reading rooms, etc., but it doesn't work well as a living room sofa, and sitting on it can become unwieldy and uncomfortable.
If you want to buy some new furniture for your house, please contact us today, we'll give you the perfect solution and customized service.