Where to Buy Bathroom Medicine Cabinet?
Bathroom medicine cabinets make for a great storage solution to keep all your accessories and frequently used products. It can function both as a mirror and extra storage — an ideal choice for those who have limited square footage in their bathroom.
Most medicine cabinets are designed with a mirrored door (you can even install an interior mirror) and sized to fit above the sink, under a lighting fixture. You can use them to put on makeup, put in your contact lenses, or shave.
As far as the storage space is concerned, you can keep liquid products such as contact solution, hairspray, and mouthwash, cosmetic items such as lipstick, mascara, deodorant, and of course medicines.
Besides being practical, a medicine cabinet can also enhance your decor, if you know how to pick the right look. Are you thinking of buying bathroom medicine cabinets for your house? Well, we have some tips that will give you an idea about the various options available.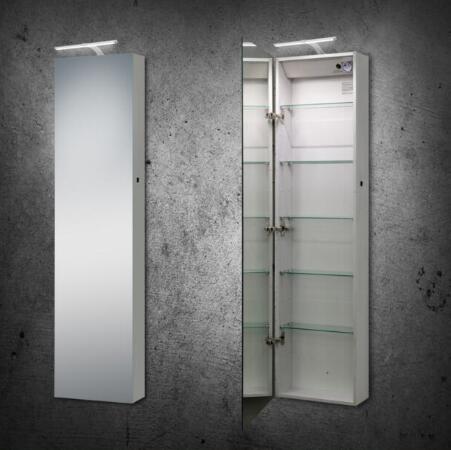 Types of bathroom medicine cabinets
Fortunately, and contrary to what most homeowners think, there is a wide variety of cabinet types available on the market. Be sure to choose the one that goes well with your space and overall style. Here are some of the most popular bathroom medicine cabinet options:
Recessed cabinets
As the name suggests, this cabinet style doesn't protrude from the wall. In fact, it's installed by cutting a hole into the bathroom wall — allowing the mirror to sit almost flush against the wall. Even though the installation requires a little extra work, the resulting look is worth it.
Besides the fact that it takes up less space, such a cabinet makes your bathroom look cleaner and spacious. Do be careful while cutting the hole; check behind the drywall to ensure that there is no ductwork or plumbing.
Surface-mount cabinets
This style of medicine cabinet hangs on the wall like a picture frame and is perhaps the easiest type to install. Even though you can choose from a variety of depths, most homeowners prefer around 4 inches or so. It's a suitable size for a standard bathroom — leaving plenty of space for necessary bath accessories.
Corner cabinets
This cabinet style is a boon for those who have limited space, or if their bathroom has a corner sink. Place a corner medicine cabinet and utilize that space in the most practical way. It takes up less wall area, but its depth allows for just as much storage like any other cabinet.
Tri-view cabinets
This kind of cabinet has a good amount of storage space. The design of these multiple mirrored panels is quite unique. Most units have three usable sliding or swinging cabinets. You can also opt for a decorative mirror in the center with two cabinets on either side.
Cabinet shapes and sizes
Typically, medicine cabinets are rectangular, oval, arched, or even round in shape. The decision is yours to take. However, do choose a design that complements your decor.
Whichever shape you select, the standard widths available are 20" (50.8 cm), 24" (60.96 cm), 30" (76.2 cm), 36" (.91 meters). If you choose wider models, such as the tri-view cabinets, you can go as wide as 48" (1.21 meters) or 60" (1.52 meters).
Want to maximize the storage in your medicine cabinet? Go for a full-length model with a full-length mirror or buy one that divides into the upper and lower cabinets — each with its own mirror.